How I became a professional photographer
I was already a professional photographer before I decided to become one…
The statement: "I was already a professional photographer before I decided to become one" sounds a bit weird, doesn't it ?
But it is very true. Let me share my story with you.
Up to my mid 30ies, photography and taking photographs was absolutely not something that interested me. In fact, I did not even own a camera.
Back in the early 2000nds, I quit the safety of a well-paid IT executive job. The corporate environment, political correctness, clearly regulated working hours… all this was not what I wanted to do for the rest of my life.
I always wanted to do something 'creative'.
So, I started a web-design agency. For many website projects, we took on clients did not have photographs. Neither did they have a budget for hiring a photographer.
But somehow we needed photographs for their websites. And as an entrepreneur one has to be resourceful.
That prompted me to make photographs myself – whatever it takes.
At that time I knew little to nothing about how to take photographs. If it looked OK on the camera's monitor I pressed the shutter.
But was that enough to be a photographer ? Could it really be that simple ?
To my surprise, many photographs turned out to be quite good and clients were happy to use them on their websites and in brochures.
Also, several people whose opinion about artistic matters I valued encouraged me to pursue photography further.
That and sheer necessity prompted me to also dip my toes into photo editing and learning Photoshop as well.
Soon I could even start to charge some money for my photographs. And I also took on jobs that had no relation to the work in my web design agency.
So within 2 years of picking up a camera for the first time jobs were coming my way without me chasing them proactively.
As you can see it was not a conscious decision to become a photographer, but more something I stumbled into by accident.
My early days
Equipped with a pocket camera and an ever-increasing interest in photography I took up any assignment I could get. Paid or not paid – it did not matter.
The photography bug had bitten me.
As long as I could make photographs and see those photographs to be used by magazines, clients or whatever – I was happy.
So I started to become quite serious about photography. And I decided to study photography intensively. In case you ask where I studied or under which master photographer…
The answer will surprise you. I studied at the very best university. Which is the Internet! 
With gazillions of tutorials and forums for photographers, nothing beats the web as a source of education.
So in my first couple of years, I took on a great variety of photo jobs. Which was a wonderful opportunity to learn.
How & why I became a Bali wedding photographer
Probably the main reason for becoming a wedding photographer in Bali was BALI itself.
Let me explain:
During my first 6 years in Indonesia, I have been living on the island of Java. That is where my work was. But I used every opportunity to come to Bali for short and longer holidays. And I knew that one day I would want permanently live in Bali.
But there was not much work at all for a commercial / industrial photographer in Bali. Because I was head over heels into photography a good friend of mine invited me to photograph his wedding. That was in 2003.
From the first moment on I loved wedding photography.
Working with people, being in stunning places and experiencing the fantastic atmosphere of weddings in Bali – I was hooked!
My entrance into Bali wedding photography was when almost all wedding photographers in Bali were still working on film, with analog cameras.
So I had an 'unfair advantage': DIGITAL and my skills in photo editing. Just because of technology I could produce more, better and also less expensive photographs.
Wedding planners and couples loved me for that.
And I had a very quick ascend to become very successful as a wedding photographer in Bali.
Because for my being a wedding photographer was not just a job, but a passion / a calling I worked very hard to further deepen my skills.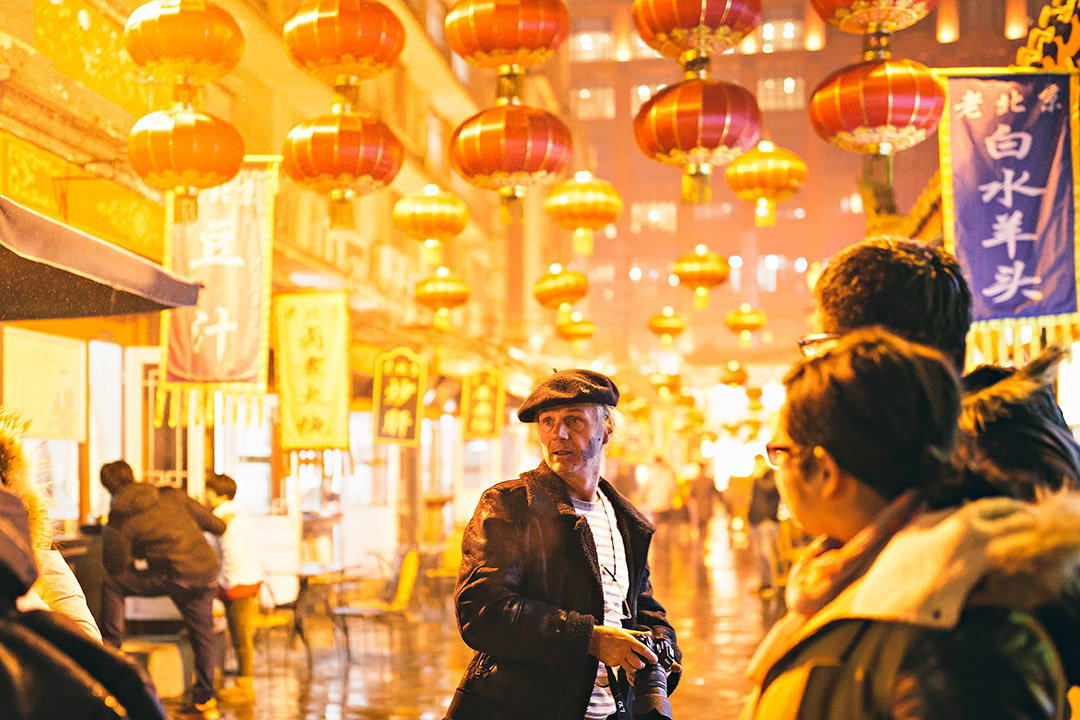 But of course, the digital advantage evaporated quickly when more and more Bali wedding photographers transitioned over into digital. And also many new photographers entered the market place.
Fortunately, I am also blessed with the talent and skills to produce wedding photographs that stand above the rest and I quickly rose to fame (not riches though…).
So I also threw my work in front of international judges, competing with tens of thousands of wedding photographers from around the world to win awards.
I was the first photographer in Bali and in Indonesia who was chosen as a distinguished member of the prestigious Junebug photographer community. I left them 2 years later because of outrageous membership fees and because they started to accept every clown and their dog into their midst.
A bit of fine-art photography
Already in my early days as a photographer I developed a knack for fine-art photography. And I spent countless nights studying the masters of fine-art photography.
Having been interested in fine-art already from an early age on I was keen to find out wether I had what it takes to be an 'artist' and to create art with my photographs.
My first fine-art project was my series about RICE.
When I showed my series of rice photographs to the curator of one of Jakarta's most renown fine-art galleries they quickly agreed to do an exhibition of my RICE photographs.
I was in heaven !!!
However, soon reality and some fundamental insights kicked in. Gaining recognition and doing exhibitions is one thing. Feeding one's family from the pursuit of fine-art photography is another thing.
In other words: Making any meaningful money from fine-art photography is close to impossible – at the least in my part of the world.
Of course, I continued to pursue my 'art' – whatever that may be – over the years. But more as a hobby and a means of self-expression.
Here you can see some photographs of my fine-art work.
To be continued…