<div style="bottom:75px;position:absolute;"><a name="dominik1"></a></div>
PRETTY, PRETTY AMSTERDAM
Let me start this by exclaiming: If you have not been to Amsterdam you have not seen Europe.
A pretty strong claim. Yes, I know.
But seriously: Amsterdam is for sure among the most beautiful cities in Europe. Easily on par with Venice, Rome or Paris.
A must-visit destination in Europe.
I recently went there to visit my son, who is attending University there. And I came together with my 8-year-old daughter. So, a true family holiday. But that is not the point here.
The point is Amsterdam ! Well, rather than me singing a hymn here let the photographs do the singing instead.
Amsterdam, a photographer's paradise?
Yes, definitely.
Because this 8 day trip being a family holiday I did not really have the time and opportunity for serious photographing – whatever that may be…
All the photos you see here are rather 'touristy' photos which I took while wandering about in Amsterdam.
My habit of getting up early came in also quite handy because the place is even more beautiful in the very early, quiet morning hours.
Shall we see some more photographs ?  
 
FOR PHOTOGRAPHERS

Amsterdam is certainly a paradise not just for pretty and touristy photos but also a heaven for street photographers.
There is something to discovered at every corner. And there are plenty of – shall we say: 'funky people' around.

I photographed with my Sony A7 rII. And I had with me my Tamron 15-30 / 2.8 – and I am very glad I did. Because I got some wide-angle stuff that I love. But that was it in terms of 'big' gear.

The rest was done with my favorite travel companion: My Canon Pocket camera: the SHX 50 – the superzoom monster.

Post Pro was done in film style, whereby I mostly use my onw presets.

Another great bonus for photography is: In summer there is sunset-ish light from 22.00 h till almost midnight. And due Amsterdam's geographical location being quite 'northern' the days in summer are very long indeed.

And with the many canals and water all over the city you should be able to get some lovely photos with lots of reflections.

What to bring in terms of gear ? As much as you can… The more lenses you have the better. You'll be able to use them all.

And last but not least: Amsterdam is a quite small city and can be easily explored on foot. Even better on a bicycle, but that was not meant to be for me this time.
Outdoor Life-style
Like in many other cities in Europe people like to be out on the streets, in cafes, in parks, etc… And Amsterdam's inhabitants are a colorful lot in every sense of the word.
The amount of cafes, restaurants and other options to hang out are staggering. And the Dutch seem not to miss any opportunity to be outdoors.
I also think there are not many other cities in the world that have so many of its citizens living on boats. Houseboats to be precise. And indeed most of those are more houses than boats.
The majority of those houseboats do not even have a motor or any propulsion. 
I hope I will one day be invited onto one of those to see what feels like to live on a boat.
One more striking aspect of Amsterdam is its bicycle culture. I heard that every Dutch citizen has at least two bikes, if not more. And it shows in the streets of Amsterdam.
Paradoxically this was one of the few trips during the year where I was not out and about using a bike. Mainly because I was with my two children all the time. And it would not have been practical for all of us to move around on bike.
But during my next trip, I will for sure also use a bicycle to see more of this fabulous city.
In the following a few photographs that may not be sufficient to describe the great 'lifestyle' Amsterdam offers.
Shop windows and Window shopping
My personal favorite photographs from this tip are the following. All are in one way or another, shop-window photos.
I can't really say what draws me to this kind of photographs. Probably the inherrent abstraction.
A side trip to Amersfoort
I am glad that I was also invited by friends to visit Amersfoort, a smaller city, about an hour by train or car from A'dam. This being a visit to friends, my time for taking photographs was very limited – an hour or so.
But nevertheless, here are some impression of that lovely Dutch town that I consider worth sharing.
Oh, and before I forget it: A BIG THANK YOU – to the van Malsen family… for hosting us during that lovely day.
Photoshoot with family
I did mention before that I was in Amsterdam with family, or parts of my family to be precise.
So in the following a couple of photos with my daughter Kika and her brother Dewa.
A DEDICATION
I dedicate these photographs to my dear Rose Vitelli, who has been a faithful work companion and an inspiring muse. And a dam' lovely person!! Rosa, having had you around for the last few years was a pleasure and a privilege. I wish you the best for all your future endeavors. Thank you very much and hope to see again in Bali soon.
I hope you all have enjoyed exploring Amsterdam with me. Leave a comment, will ya'…
Truly' DOMINIK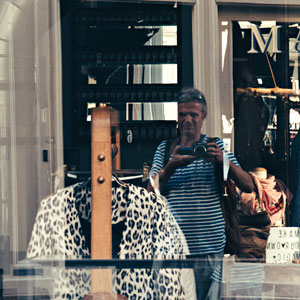 If you have enjoyed this article, please share it with others. Thank you !!